Arksen 45
The Arksen 45 is the flagship vessel in the Adventure Series, designed to inspire the true explorer in all of us. This vessel, built in partnership with Ring Powercraft, is 45 feet, equipped to sleep four and with the option of up to six berths, a range of up to 500nm and sprint speeds over 50 knots.

Designed to be multifunctional, the Arksen 45 is able to support leisure, research and commercial voyages by operating either as a tender/chase boat, or for independent adventurous excursions.

The ability for multi-day independent adventures enables owners and their guests to spend longer in their chosen destinations, operating autonomously to the mothership. It can provide a safe and comfortable ride in some of the world's more challenging locations and the separate forward cabin and full height shower room allow guests to freshen up in privacy after a dive or day at the beach.
Spacious, protective cabin with flexible seating and up to four berths
Large exterior space with multiple seating and stowage options
Exceptional ride, comfort and handling in rough weather
Fast, efficient hull with high load carrying capacity
Comfortable, dry ride in all conditions
Twin or Triple outboard options
Twin inboard jet or stern drive options
Hybrid power options
Heating and air conditioning available
Foam filled D-Tubes increase the internal beam
Sunbed/lounging/stowage area
Choice of Navigation packages
Specification
Length Overall
13.55m (44'5″)
Beam Overall
3.25m (10'7″)
Range Capability
Up to 500 nm
Arksen 45 Gallery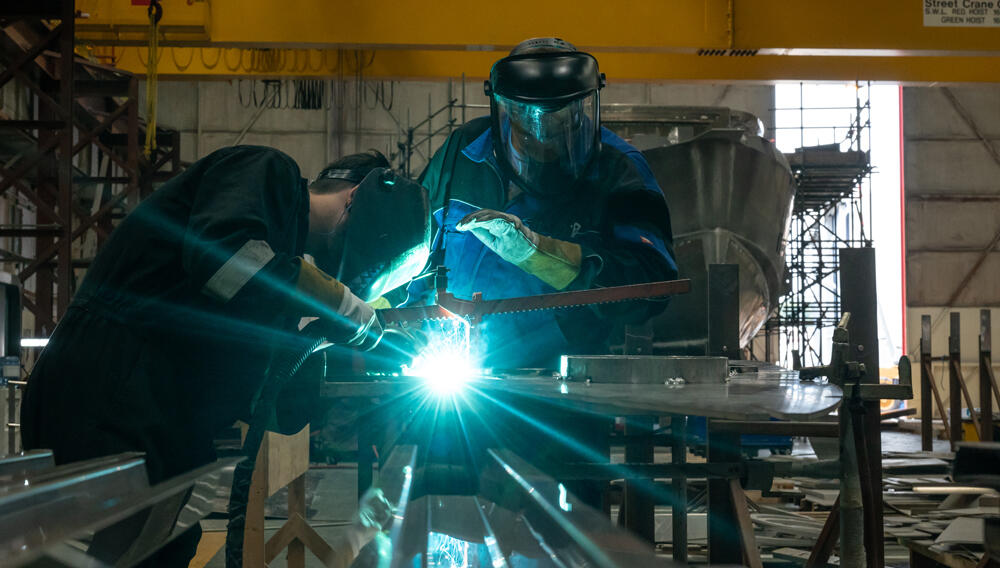 Arksen 85s in Build
Arksen now have two explorer vessels in build at Wight Shipyard in the UK.
Arksen Philanthropy
Explorers' Club